Buggati Veyron
Buggati Veyron
Buggati Veyron The Bugatti Veyron first made its appearance back in 1999 at the Tokyo Motor Show as a concept car, but it wasn't until 2005 again at the Tokyo Motor Show that a full production model was first shown. It has been reported that even though the Bugatti Veyron sells for about $2,000,000 US the actual production cost is well above this figure. So why would Volkswagen build a car that loses money? Because the car was developed as a test bed for future technology and as an exercise in engineering so it remains to be seen weather Volkswagen will make money if the technologies in this car will be used in future mass produced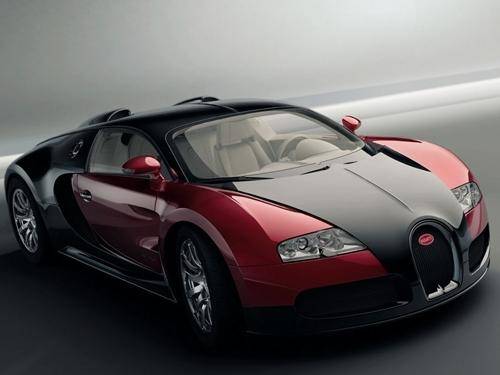 Buggati Veyron
Buggati Veyron
Buggati Veyron The specifications for the Bugatti Veyron read like an engineers wet dream, the Bugatti Veyron is powered by a W16 engine which is basically two V8's sandwiched together in a W configuration giving you 16 cylinders hence the W16 name. Due to the narrow configuration it only requires 4 camshafts to operate the 4 valves per cylinder giving a total of 64 valves.
Buggati Veyron
Buggati Veyron
Buggati Veyron With 4 turbochargers providing the boost this beast throws out a massive 1001hp with peak torque a stump pulling 922 ft lbs, all this fed thru a dual clutch into an computer controlled 7 speed manual gearbox (operated via paddles on the steering column), then into the all wheel drive to get all that power to the ground.
Buggati Veyron
Buggati Veyron
Buggati Veyron Let's now look at the Bugatti Veyrons performance, top speed is guaranteed to be 400kmh (249mph), an official top speed of 407.5kmh (253.2mph) was achieved twice at Volkswagens Ehra-Lessien test track.On the show Top Gear James May said of this test when close to top speed "the tires will only last for about 15 minutes,but its ok because the fuel runs out in 12". The Bugatti Veyron is also the quickest accelerating production car in history, reaching 60mph in 2.46 seconds with 200 and 300kmh (124 and 186mph) done in 7.3 and 16.7 seconds. But this comes at a price with fuel consumption in the range of 5 to 10 mpg, but at full throttle the Bugatti Veyron gets 2.1mpg,which means it would empty its 100 litre (26.4 gallon) fuel tank in about 12.5 seconds.