Bugatti Veyron Convertible
Bugatti Veyron Convertible
Bugatti just officially revealed its new Veyron 16.4 Grand Sport. It's a - here we go again - open-top, convertible, targa, or anything you want to call it. Building it wasn't as simple as pulling off the roof, its a Veyron for whatever's sake - the worlds fastest car, of course it won't be as easy as pulling the roof off.Engineers set to strengthen the shell and chasis to deal with the extra load and flex. The monocoque structure has been strengthened around the side-skirts and the B-pillars were also stiffened using carbon fiber for support. The Bugatti Veyron 16.4 Grand Sport also features a slightly higher windscreen, re-styled daytime running lights as well as a lightweight transparent polycarbonate roof.
Bugatti Veyron Convertible
Inside, the leather is now moisture-resistant and backstitched, there is also the addition of a reversing camera with a 2.7 inch monitor in the rear view mirror to make life easier. And to make life even better, the Bugatti now comes with a Puccini sound system.Power derives from same engine as the coupe, the W16 1001hp engine allows for a top speed of 407km/h with the top closed and a boring 305km/h with the top off but what is really shocking as it is sad is that with the folding roof in place, top speed is limited to a pussified 130km/h. I'm not too sure if I would be pleased with that considering the sum of money I'll be forking out just to own one, wonder what actual owners have to say about that.
Bugatti Veyron Convertible
As always, Bugatti will only produce a limited run of 150 units of the Veyron 16.4 Grand Sport - 50 of which are already going to registered Bugatti customers. The first unit will be sold at the Pebble Beach Auction with the proceeds going to charity.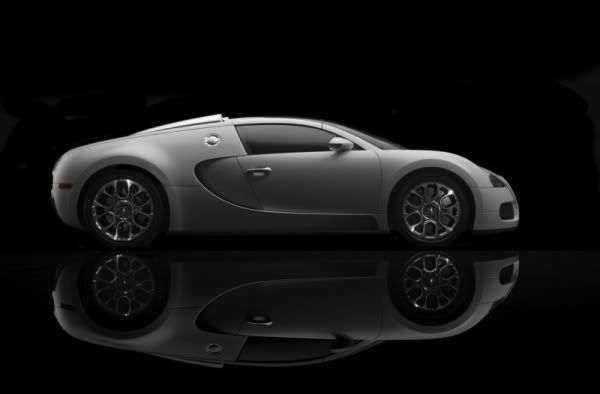 More Picture of Bugatti Veyron