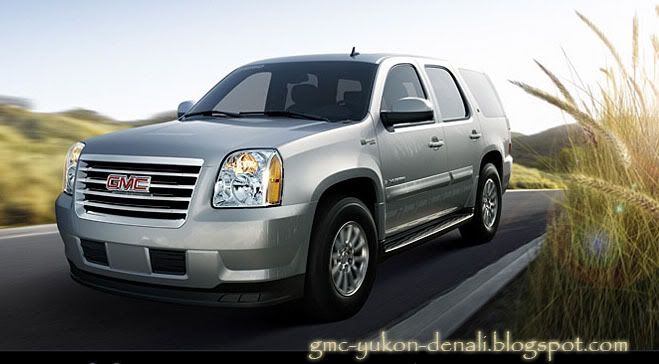 Let's get something out of the way right now: the Yukon Hybrid is over-priced. Our tester stickered at $56k. At that price point, GM's gas - electric SUV competes against BMW's enlarged X5, Audi's Q7 carcoon and Lexus' golf club friendly RX 400h (to name a few). Hybrid or no, the GMC Yukon's not exactly what you'd call an upmarket machine. If The General had taken the hit and offered the Yukon Hybrid for the same price or less than its gasoline equivalent, it would be a far more compelling proposition. But they didn't. So let's press on.
Aesthetically, the Yukon Hybrid is about as bashful as a drunken sorority girl at Panama City Beach Spring Break. The big rig's plastered with no fewer than nine proclamations that it possess a gas-electric drivetrain, including three-foot-long "Hybrid" stickers along its mighty flanks. Custom side skirts, a rear spoiler and good-looking low-weight 18-inch wheels add more not-so-subtle style (and mpgs) to the equation.
Other than that, it's a Yukon: big, bland and boxy. OK, the SUV's creases were sharpened pre-Hurricane Katrina, but the Yukon's looks still aren't going to blow anyone away.

To drop the Yukon Hybrid's aerodynamic Cd from .39 to .34, GM re-softened those sharpened creases with a slightly reshaped hood and rear hatch, and lost the roof rack. Although the new hood and hatch are fashioned from aluminum, the Yukon Hybrid's batteries and electric motor make it heavier than the standard model. The Yukon Hybrid's heft rises from either 5270 to 5541 lbs., or from 5438 to 5617 lbs., depending on whether you believe GM PR or the GMC website.

GM's new truck interiors may be far better than anything they've ever offered, boasting attractive chrome accents and a real woven headliner. But at $51k (base), the Yukon Hybrid's interior feels cheaper than a Las Vegas motel on a Tuesday afternoon. Fake wood and aluminum abound. Vinyl that tries (and fails) to look like leather stretches across the ample dashboard. The seats are flat and unsupportive, and the optional third row seat is unusable for anyone but Hobbits.

The Hybrid comes amply-equipped with navigation, rear parking camera, auto climate control and power everything. In complete contrast to the exterior, only a small Hybrid logo, an "Eco" gauge and a Prius-like touch screen drivetrain display remind the driver that they're piloting the world's largest private passenger hybrid.

To maintain the Yukon's cavernous interior, the engineers utilized the undercarriage space for the NiMH batteries. Part of that space was realized (and the beast's weight gain minimized) by replacing the full-size spare tire with a can of sealant– not exactly what you'd expect in a 4×4. Not that you'd ever take those low-rolling-resistance donuts off-road. On the positive side, the Yukon Hybrid 4X4's towing capacity is a respectable 6000 lbs. (down from 8000 lbs.)

As for that highly-touted 25 percent fuel economy improvement, yes, I achieved the advertised mpg in mixed driving. But I wonder how much of that gain's down to the non-drivetrain mods. Equally perplexing: why hasn't GM incorporated them into normal Yukotahburbelades? Is the American automaker shortchanging their gas-powered SUVs to protect the hybrid versions' rep? Clearly, the Yukon Hybrid raises more questions than it answers. Meanwhile, one thing is for sure: at that price, in this market, the Yukon Hybrid will not be flying off the lots.

Source:By Mike Solowiow
February 27, 2008 - TruthAboutCar.com