Mclaren yesterday unveiled their 2008 title contender just a day after Ferrari unveiled their F2008. January is set to be an interesting month as all Formula 1 teams are expected to unveil their title contenders for the 2008 season.
Mclaren's latest machine called the MP4-23 was launched at the Mercedes Benz stadium in Stuttgart, Mclaren's CEO Ron Dennis and Chairman of the Daimler Board; Dr. Dieter Zetsche welcomed all guests to the official presentation. Lewis Hamilton, who celebrated his 23rd birthday yesterday, and Heikki Kovolainen were joined on stage by Pedro de la Rosa and fellow test driver Gary Paffet to unveil the highly anticipated MP4-23.


It was said that the car was completed just in time for the launch. To be exact, it was completed a night before the launch and was immediately loaded onto a Mercedes Actros truck to be driven the 1000km's between Stuttgart and the Mclaren Technology Center in the UK. As you read this, the car is probably already on its way to Circuito de Jerez in Souther Spain, where Lewis Hamilton and Heikki Kovolainen are to give it the proper shakedown it needs. It is said that more than 14,000 hours were put into developing the MP4-23, and it promises to shine brighter than last seasons MP4-22. Lewis Hamilton is due for a test drive on Thursday while his team mate Heikki Kovolainen will be conducting his testing on Wednesday.




Heikki Kovolainen later commented, "Today is my first official event as a Vodafone McLaren Mercedes driver and it hasn't come soon enough. After joining the team on the 14th December, I have already spent some time at the McLaren Technology Centre getting to know everybody and working with my engineers. It is also great to be here at the Mercedes-Benz Museum in Stuttgart today to meet the Mercedes-Benz employees, media and VIP guests for the first time as a Vodafone McLaren Mercedes driver. I was able to learn a lot last year, and hope to take that knowledge into the 2008 season. I am looking forward to contributing to the development of the car during the six main tests in the build-up to Melbourne. It is a really exciting time for me to be joining Vodafone McLaren Mercedes."




MP4-23 FACTFILE

* The first design meeting for the MP4-23 took place back in November 2006 with early layout work starting in March 2007.
* Wind tunnel work commenced in late May 2007.
* Since then the MP4-23 has spent over 3000 hours being developed in the wind tunnel.
* The first MP4-23 chassis was ready for bonding in mid November 2007.
* Lewis Hamilton, Pedro de la Rosa and Gary Paffett had their provisional seat fittings for the MP4-23 back in September 2007. Heikki Kovalainen was fitted for his seat shortly after being announced as a Vodafone McLaren Mercedes driver.
* The car build process for chassis 1 began in early December 2007 and was finished in early January 2008.
* Throughout the development process 150 different engineers have been involved in the whole project in all disciplines.
* 14000 engineering man hours have so far been put into the MP4-23 development project.
* A similar number applies to the manufacturing man hours involved to produce the MP4-23 in time for its track debut on the 9th January 2008.
* The MP4-23 is an evolution of the MP4-22 and as such there is no significant visual difference currently, however between now and the first race in Australia there are planned upgrades on most of the aerodynamic surfaces, wings, bodywork, bargeboards and additional bodywork components.
* Alongside the development of the 2008 challenger, concept work has been started for the 2009 car since November 2007, with the KERS project (energy storage) beginning a year ago.

MP4-23 TECHNICAL SPECIFICATION

ENGINE

* Type: Mercedes-Benz FO 108V
* Capacity: 2.4 litre
* No. of cylinders: 8
* Max. rpm: 19,000 (FIA regulatory limit since 2007)
* Bank angle: 90O
* Piston bore maximum: 98 mm (FIA regulation)
* Bore spacing: 106.5 mm
* Number of valves: 32
* Fuel: Mobil 1 Unleaded (5.75% bio fuel)
* Lubricants: Mobil 1, newly developed 2008 formula for lower friction and better wear resistance
* Engine: 95kg (minimum FIA regulation weight)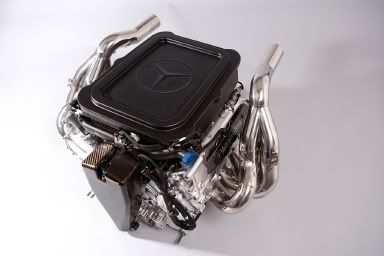 TRANSMISSION

* Gearbox Speeds: Seven forward and one reverse
* Semi-auto: Yes
* Driveshafts: McLaren
* Clutch: Hand-operated

* Chassis: McLaren moulded carbon fibre/aluminium honeycomb composite incorporating front and side impact structures. Contains integral safety fuel cell
* Front Suspension: Inboard torsion bar/damper system operated by pushrod and bell crank with a double wishbone arrangement
* Rear Suspension: Inboard torsion bar/damper system operated by pushrod and bell crank with a double wishbone arrangement
* Suspension Dampers: Koni
* Electronics: McLaren Electronic Systems control units incorporating electronics for chassis, engine and data acquisition. McLaren Electronic Systems also supplies the electronic dash board, alternator voltage control, sensors, data analysis and telemetry systems
* Bodywork Construction: One-piece engine cover; separate sidepod covers; separate floor section, structural nose with integral front wing.
* Tyres: Bridgestone Potenza
* Radios: Kenwood
* Race Wheels: Enkei
* Batteries: GS Yuasa Corporation
* Steering: McLaren power-assisted
* Instruments: McLaren Electronic Systems



Source: Mercedes



More on Mercedes click here