Custom Modification
The award-winning Mazda RX-8 is setting new standards in the sports car market for handling, performance and comfort, particularly with its specially developed RENESIS rotary engine.
---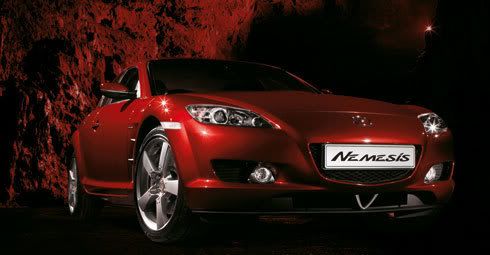 Custom Modification
The
Mazda RX-8 Nemesis
is the perfect opportunity to own a unique, special edition sports coupe – without giving your bank manager a headache.
Strictly limited in number, the Mazda RX-8 Nemesis is packed with bespoke features, including the unique exterior paints and the leather trim. All of which goes to enhance this car's renowned handling and comfort, with superb performance from the award winning RENESIS rotary engine (producing 192ps).
A complimentary Mazda Prodrive Driving Experience Day gives you the opportunity to test your new car's performance to its full potential.
---
Mazda RX8 Kuro
With its spectacular styling and exclusive features, the limited edition Mazda RX-8 Kuro enhances an already multi-award-winning sports car.
The superior handling, performance and comfort of the Mazda RX-8 is renowned, as is the thrilling RENESIS rotary engine that powers it. And now the Mazda RX-8 Kuro raises the bar in terms of sporty sophistication.
Limited to just 500 models, each individually-numbered Mazda RX-8 Kuro bears the real mark of exclusivity.
Source: Mazda Uk, Mazda Press, Rsportcars.com