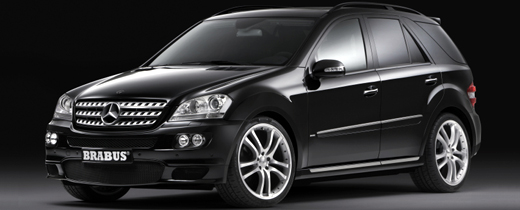 BRABUS uses the most exacting standards for the development and testing of its tuning parts - and stands behind them 100 percent: All BRABUS components - including all performance kits and increased-displacement engines - are covered by the unique BRABUSâ Tuning Warranty of three years up to 100,000 kilometers (see BRABUS warranty conditions as of June 2003).
BRABUS is also one of the world's most exclusive manufacturers of automobiles: Being recognized as such by the Kraftfahrtbundesamt (German Federal Motor Vehicle Registration Agency) BRABUS builds such exciting high-performance vehicles as for example the 730-hp / 537-kW and 350-km/h (electronically limited)
BRABUS ROCKET based on the Mercedes CLS. These activities are recognized not only by the media but also by the public at large. In a poll conducted by Germany's leading automobile magazine readers voted for "Die besten Autos - BEST CARS 2006". Readers were also asked to name automobile tuners whose products they considered to have special merit. 55 percent of participants named BRABUS and thus voted the company from Bottrop 'BEST BRAND 2006' in the 'automobile tuner' category. BRABUS was founded in 1977 by Bodo Buschmann and has grown into one of the world's largest tuning companies.
BRABUS has its headquarters in Bottrop, in the heart of the Ruhr Valley, directly on the A2 autobahn. Its grounds house the global company's development and production departments as well as large showrooms.
These current BRABUS brochures are available to download:

BRABUS NEWS 2 / 2006 news206.pdf

BRABUS Best Brand 2006 BRABUSBestBrand2006E.pdf

BRABUS Business / Multimedia programm3.pdf

BRABUS Program for the Mercedes Benz C-Class W 204 brochure19.pdf

BRABUS E V12 S Version 2/06 rochure16.pdf

BRABUS Program for the Mercedes Benz -Class W/C 169 brochure13.pdf

BRABUS Program for the Mercedes Benz -Class T 245 brochure14.pdf

BRABUS Program for the Mercedes Benz CLK W/A 209 brochure9.pdf

BRABUS Program for the Mercedes Benz C-Class W/S 203 brochure2.pdf

BRABUS Program for the Mercedes Benz CL C 215 brochure4.pdf

BRABUS Program for the Mercedes Benz E-Class W/S 211 brochure8.pdf

BRABUS Program for the Mercedes Benz M-Class W 163 brochure10.pdf

BRABUS Program for the Mercedes Benz SLK R 171 brochure12.pdf

BRABUS TuningProgram for E 55 AMG / SL 55 AMG brochure11.pdf

BRABUS Program for the Mercedes Benz SL R 230 brochure6.pdf

BRABUS Program for the Mercedes Benz S-Class W 220 brochure5.pdf

BRABUS Program for the Mercedes Benz S-Class W/V 221 brochure15.pdf

BRABUS Program for the Mercedes Benz Vaneo brochure7.pdf
Brabus is one of my dream tuner , but you need the high end car such Mercedes Benz